Lawrence High School
Classes of 1968 - 1980
---

NOTICE

Class of 1970
Go to the Message Forum (Lynn Maira Rich) to see more
information about your 50th reunion!
11/06/19
---

WE HAD FUN-FUN-FUN
Eighty classmates and their guests shared good food, good wine, good "spirits", and non-stop conversation during the fastest 4.5 hours they had recently experienced.
However, first, beginning on Friday, September 20th approximately 35 former LHS students gathered at the high school for a tour of the facility. While everyone was interested in seeing the many changes that had taken place over the past 50 years, as the tour ended it morphed into a vibrant meet and greet.
FRIDAY SEPTEMBER 20th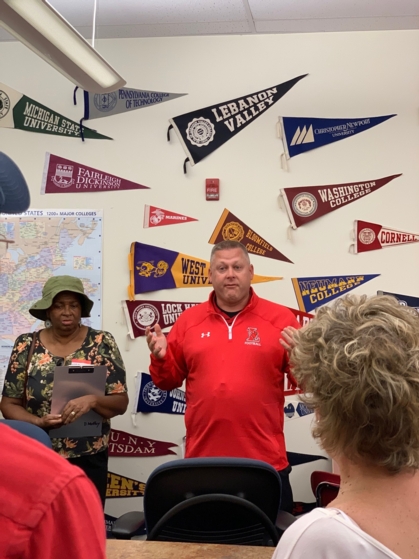 Principal David Adam welcomes our group back to LHS and extends his best wishes as he thanks us for beginning our weekend of festivities at the High School. Mr. Adam invited all to attend that night's football game under the lights at LHS.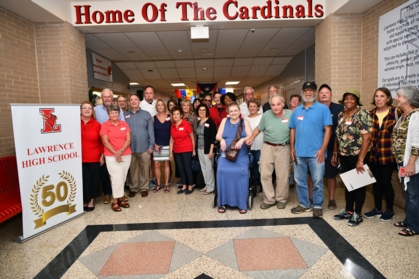 The Tour Group at LHS`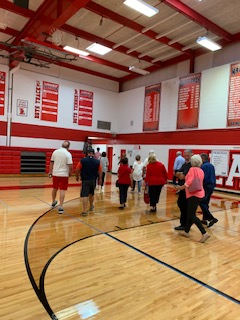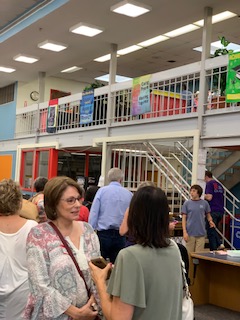 1969 Graduates explore the gym .... and the library
SATURDAY SEPTEMBER 21st
THE MAIN EVENT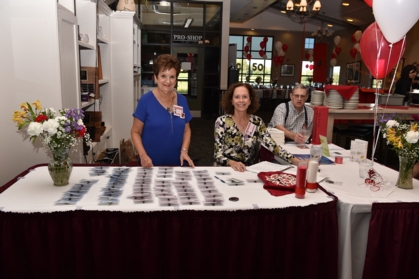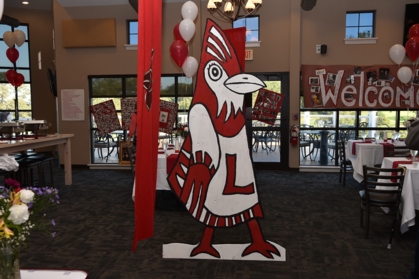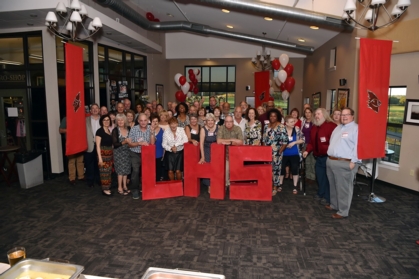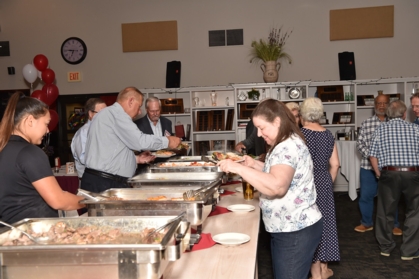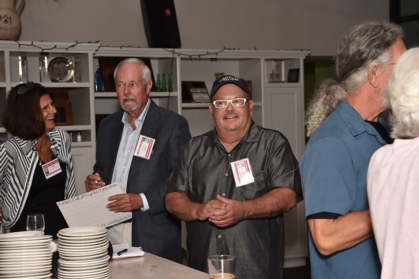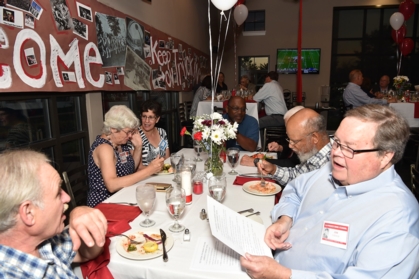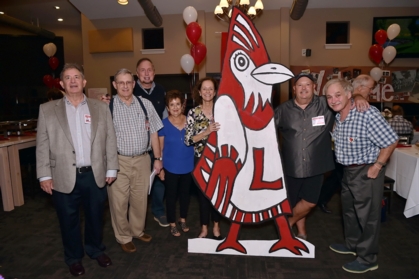 ---
CLASSMATES FROM THE CLASSES OF 1968, 1970, 1971, 1972, AND 1973 JOINED THE CLASS OF 1969 TO CELEBRATE ITS 50TH REUNION. BEGINNING ON FRIDAY, SEPTEMBER 20, 2019 WE MET AT THE HIGH SCHOOL AND WERE GUIDED ON A TOUR BY ADMINISTRATORS AND STUDENTS. SEVERAL PEOPLE REMARKED THAT THEY WERE COMPLETELY TURNED AROUND (LOST) TRYING TO FIGURE OUT THE CHANGES IN THE BUILDING. THE TOUR WAS A COMPLETE SUCCESS AS WE KICKED OFF THE WEEKEND CELEBRATION. SEVERAL FOLKS ATTENDED THE FOOTBALL GAME THAT EVENING (FRIDAY NIGHT LIGHTS) AND REPORTED HAVING A GREAT TIME.
ON SATURDAY NIGHT THE WHOLE GANG ARRIVED AT MAKEFIELD HIGHLANDS GOLF CLUB AROUND 5PM. GREETED BY AN 8 FOOT TALL CARDINAL, THE EXCITEMENT IN THE AIR WAS PALPABLE. FROM BEGINNING TO END THE BUZZ FROM CONSTANT CHATTER NEVER STOPPED. THE FOOD WAS PLENTIFUL AND DELICIOUS. OUR CATERER COULD NOT HAVE BEEN MORE COOPERATIVE AND DESSERT WAS A RED AND WHITE CAKE AND PLATES OF COOKIES.
WE FORMED TEAMS AND PLAYED A MUSIC TRIVIA GAME FOR WHICH PRIZES WERE AWARDED TO THE WINNING TEAM. WE ENGAGED IN A MEMORY EXERCISE WITH OUR FRIENDS TRYING TO REMEBER THE ANSWERS TO QUESTIONS LEFT ON EACH TABLE, SUCH AS: "WHAT WAS THE NAME OF THE SCHOOL THAT THE LHS SOCCER TEAM DEFEATED TO WIN THE 68/69 STATE CHAMPIONSHIP"?
OF COURSE THE TIME PASSED TOO QUICKLY, AND SUDDENLY FRIENDS WERE SAYING GOOD-BYE TO EACH OTHER. AS PEOPLE SLOWLY LEFT THE ROOM IT BECAME QUIETER AND QUIETER UNTIL THE SILENCE WAS DEAFENING AND THE COMMITTEE MEMBERS WERE ABOUT THE ONLY ONES LEFT WITH THE CLEAN UP CREW.
AS WE COMPARED NOTES ABOUT COMMENTS THAT WERE MADE TO EACH OF US THROUGHOUT THE EVENING, WE EASILY WERE ABLE TO DECLARE THE CELEBRATION A GIGANTIC SUCCESS. THE COMMITTEE AGREED IT WOULD MEET AGAIN IN A WEEK OR TWO AND FINALIZE THE BUSINESS OF THIS REUNION. WE ALSO AGREED TO DISCUSS WHAT WE MIGHT DO IN THE FUTURE TO KEEP IN TOUCH WITH EACH OTHER. THANKS GO OUT TO ALL OF YOU FOR MAKING OUR 50TH RENUNION CELEBRATION SUCH A SUCCESS!
NOTE
:
This reunion was not a substitute reunion for any other class. Please do not contact us to find out about any other reunions. Although, any bona fide LHS reunion Committee is welcome to use this site to plan, advertise, and manage another reunion, unless you see something specific here requesting you to respond directly to us, please don't ask the Class of 1969 questions about anything involving another class. You should seek that information directly from representatives of the Class in question.
---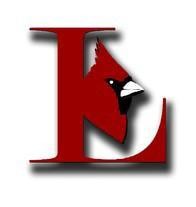 Lawrence High School is located in Lawrence Township, Mercer County, New Jersey, between the historic cities of Princeton and Trenton. This site is devoted to the first decade (or so) of classes who attended Lawrence High School, who shared the experience of attending our township's first high school while growing up in an era of rapid and often radical political, cultural and social change.
**This site has been created by LHS alumni solely for the LHS community. It is NOT a commercial or for-profit entity.**

Registration and use of this site for alumni and friends from the 1960s/1970s era is FREE! - you will not be asked to "upgrade" your membership or pay to see specific information EVER.

This site is private and secure - passport-protected membership is required for access to the content within. Site administrator(s) verify each registrant to make sure that only legitimate alumni and friends of LHS are registered, and can gain access to our information.

Individual privacy settings are available to members - you control who gets to see what you share on your profile. Each classmate can choose what profile information and photos to include, and what information to make available to other site members.
So come on in and have a look around - -
share some memories, catch up on what your classmates have been doing and where they are now.
Please register and ENJOY the site, and feel free to contact us if you have any problems with your registration.
We want to add new content to these pages frequently.
We would appreciate any relevant news, updates, corrections or suggestions, so don't hesitate to contact us.

We wouldn't want you to miss anything, so...

come back often!

tell your classmates!
...and don't forget to check the bottom of this page for announcements each time you visit this site.
---
NOTE: One of the main reasons the class of 1969 set up and funded this site, for a ten (10) year period, was to allow other LHS Classes of the 1960s/1970s era (classes of 1968 to 1980) to use the site as THE primary tool for announcing, promoting and organizing its class reunions. The site contains a wealth of features designed to help the "Reunion Committees" for each class set up, organize, promote and communicate with their classmates and other invitees.

Anyone wishing to make use of the site for this purpose can contact me directly at davekinney@verizon.net to discuss. We can set you up with a number of different access levels to allow you to use the site features that you like.

Of course, this concept will only work to its fullest if we can greatly expand the number of classmates from each class registered at the site. We should all encourage as many as possible to register, but be very judicious with our blanket or targeted class mailings so as not to be bothersome.

(I have not sent out a general message in over a year)

- Dave Kinney, LHS Class of 1969
---
These pages are created and maintained by volunteer Lawrence High School Alumni. You are encouraged to contact the following at any time: